It's been a while since I posted audio over here. So I figured I'd come back with something worth looking at.
*For Those That Care*
Since I stopped posting over here (largely due to the Low-Hz drama and Adire crap) I've started to semi-seriously compete for the 2007 season. I'm not planning on going to finals but I plan on having points to have that option. I've always done installs on the side but in recent months I've done a lot. Now I only do larger things and not piddle paddle crap. I recently gained sponsorship through Sundown and I will tell you that the SAZ-1500 is one kick ass amp. I run in bassrace 139.9 with two Mag 15's and a SAZ at 0.5ohm. I can bassrace well into the mid 140's and burp a 147-147.5 depending on temperature and if the coils are hot. The best investment I've made so far is my very own term lab. I soon plan to go even louder. The SAZ is pushing the mags to their mechanical limits so the only way to get louder above tuning is more port area. Or that's how I see it. Anyway, this will be my first notable install in a while so I hope you enjoy.
/ramble
Here is a shot of the invoice/contract/receipt and check stub. A hefty chunk of change. Because this is for a good friend it is around $2000 instead of what my normal rate would put it at ($2400). In either case this is a $4000 install at the average shop.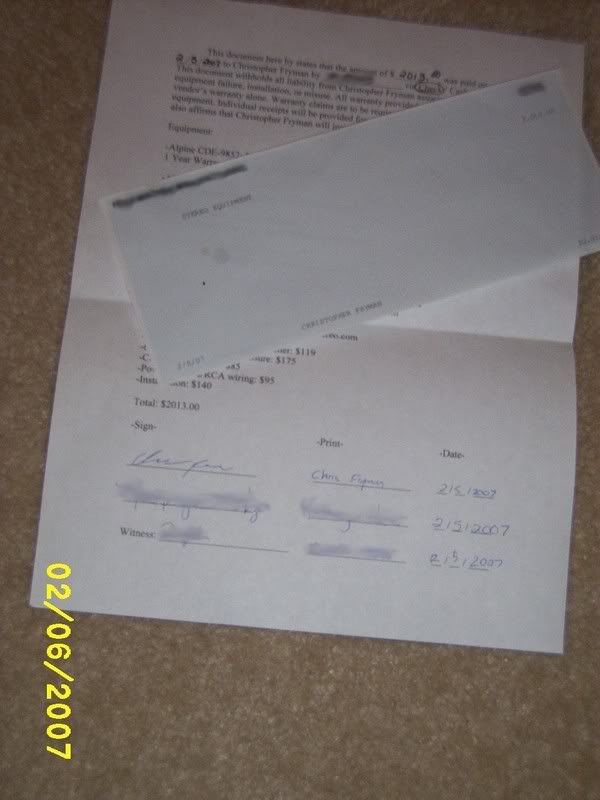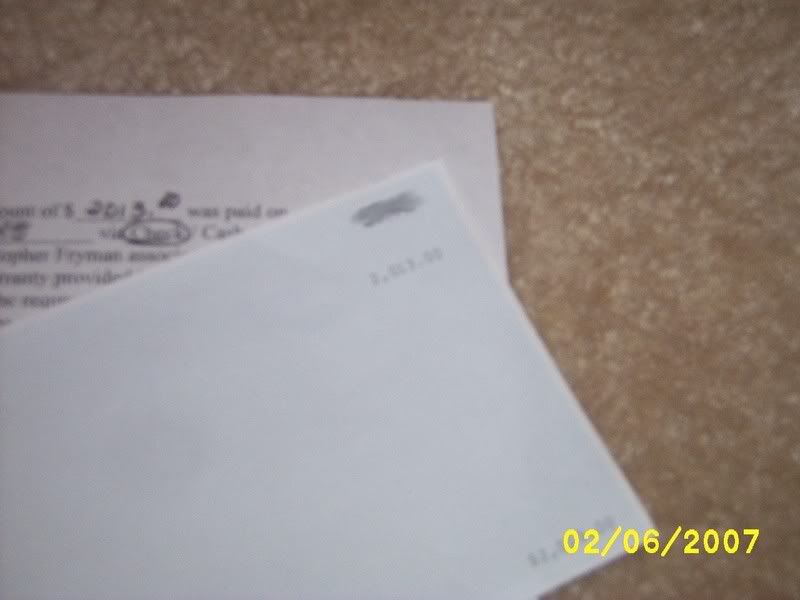 Here is a list of Things to be done.
-Alpine 9852 w/ Alpine RUE-4202 Remote
He wanted something cheap, yet functional and he wanted a remote. With all of the bass going in it I felt alpine was a good choice so it doesn't skip.
-Kicker RS 5.25" Component Sets in custom door pods
Door pods are a maybe. I will have to take some measurements to see. There are a lot of switches and crap. It may end up being kick pods or just extra deadening and sealing the doors.
-Hifonics ZXi 4006
possibly running active or just giving the components plenty of overhead power I will see how it works out as far as sound with the OEM Xovers.
-2 Fi SSD 15's With Flat wound Coils in 6cuft @ 32Hz with 90sqin port area
Yep, with the prices and the amount of bass he wants Fi was the best choice I could think of. SQ isn't taking top priority. He just wants to shake houses when he wants to and have good bass for his reggae.
-Hifonics BXi2006D
Hifonics may not be the best, but my BX was reliable and gave plenty of power for the money. I don't think I am going to get a near 2kw amp for $350 from anyone else brand new with 1yr warranty.
-80+ sqft Sound Deadener
The majority of it will be RAAMatt. Possibly something cheap like eDead where good adhesion isn't top priority.
-Knu Konceptz 1/0, 4ga, and RCA cables including Big 3
Knu is cheap and it looks pretty so that is what he got. I'm not a Knu fan but it works.
I'm pocketing roughly $240 from this after materials. I figure one weeks work putting in 2-3hrs a day.
Everything is on its way to my house and box building will commence Thursday. Once the box is started I will post pics to keep you entertained. My SPL goal is to bassrace over 143dB and retain good sound clarity. This will be my first install with Fi so I'm holding my breath for sucess. 143dB may not be a lot but you have to remember this is a luxury grandma car. The back deck is solid, the backing of the seat is 3/4" plywood, it doesnt fold down, and there are only going to be three 6" holes for the bass to vent from the trunk to the cabbin. Luckely there is enough room to fit a box for 2 18's in this trunk if you didnt want to retain storage space. This car is going to be able to hold two 15" woofers in a ported enclosure with room for the spare for groceries, soccer equiptment, and school books. All requirements of this install along with brick crumbleing bass.
Thanks for looking. Updates in 48hrs.